Boating Made Simple and Affordable
Champlain Fleet Club is for people who want to enjoy boating on Lake Champlain without the hassle and expense of boat ownership or the limitations of boat rental. The club offers a variety of new and late model boats so you can choose the one that's right for the activities you like. And our boats are docked, gassed and always ready for your boating pleasure.
How The Club Works
As a member you join the club, pay a low monthly or annual fee and simply make reservations to use the boats. The only additional cost is the fuel you use. The club owns the boats and pays for all the insurance, maintenance, dock space, storage, and repairs. We provide all required safety equipment along with water skis, and tow ropes for each boat. Members get unlimited use of the boats and they are available only for club members.
Membership Has Benefits
Membership in the club offers the following:
Unlimited use of a variety of boats ranging from bow-riders to pontoon boats.

Boats conveniently docked at a marina and ready to enjoy by members only.

Water toys and safety equipment available at no extra charge to members.

Access to Bay Harbor Marina clubhouse sitting area, bathrooms and showers.

Maintenance, winterizing and winter storage are taken care of by CFC.

Liability and boat insurance paid by CFC.

Affordable annual membership options.

Unlimited basic boating training.
The fleet of boats consist of new and late model boats ranging in size and style. These are not rental boats, they are very well maintained, and reserved only for use by CFC club members.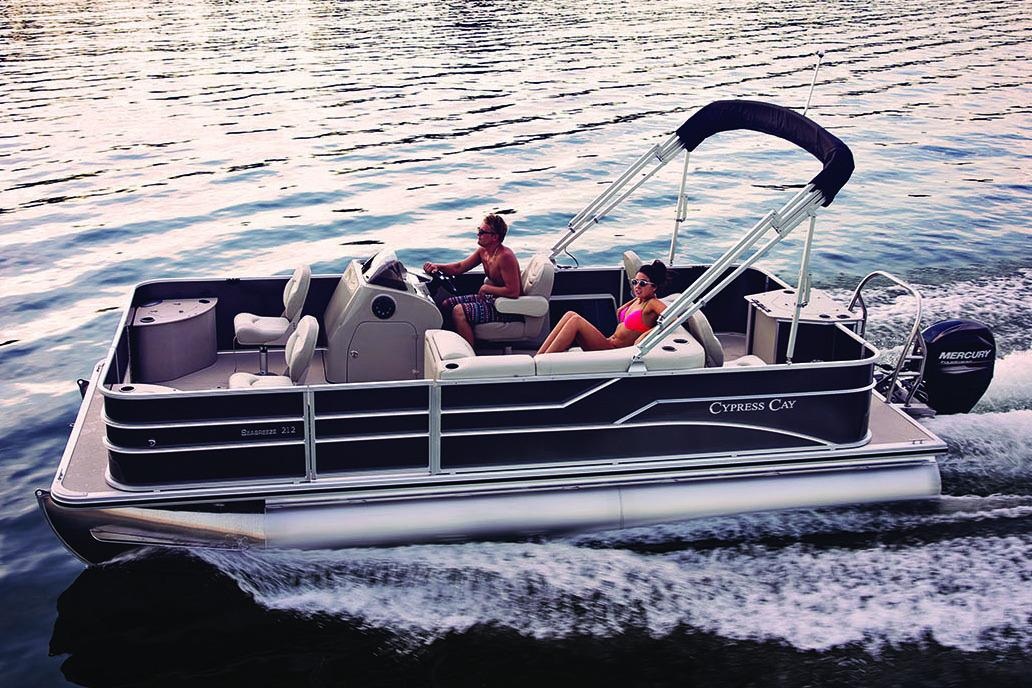 are included with membership.
A variety of water skis, wake boards, tubes, ski vests, and tow ropes are available to club members at no additional cost.
Costs
Joining the club costs much less than buying a boat. Club fees are only $230 to $300 per month depending on the membership you choose. The fees include unlimited boat use plus complimentary use of the club's water toys and marina facilities. There is a one time initiation fee, and if you move or no longer want to maintain your membership you can sell the membership to someone or transfer it to another family member. The only other cost is replacing the fuel that is used during your outing. Dollar for dollar, boat clubs are simply a better deal—and a much more trouble-free way to enjoy the lake.
Regular Membership
Unlimited use during the season. Reserve and use the club's boats any day of the week. Just like having your own boat without all the work and expense. We cover all dockage, maintenance, storage, and insurance. All you pay for is the fuel you use.
Weekday Membership
Reservations limited to weekdays, excluding holidays and Friday after 5:00 PM. Weekend reservations are allowed after 7:00 AM if boats are available on that day.
2 reservations at any time = $250/month

4 reservations at any time = $275/month

6 reservations at any time = $300/month

4 weekday reservations at any time = $230/month
Membership dues can be paid in advance for a year or through monthly payments.
$250/month or $3000/year for 2 reservations at any time
$275/month or $3300/year for 4 reservations at any time
$300/month or $3600/year for 6 reservations at any time
$230/month or $2760/year for 4 weekday reservations at any time
The initiation fee is $3000. This is a one time membership fee that is transferrable or can be sold by an active member at any time.
Balance of year membership for as low as $1650 (weekday only) or $1800 (anyday).
Call 802-363-5090 for more information.
to see the boats and learn more.